Home Learning
Please click on the document links below to download your child's work packs. The packs can be printed if you wish, however there is no requirement to do this. Children can record answers into an exercise book.
For children who are unable to gain access to a computer/ the internet, could parents/ carers contact school directly so that a paper copy can be printed. This will be done on request only and left outside our main doors in a covered box for collection. Should you require it, you can also collect an exercise book for your child.
We strongly recommend that your child continues to consolidate their learning through completion of these activities on a daily basis.
Pratical Ideas:
We hope you're all staying safe and managing to keep active. Have you tried the Joe Wickes PE lessons online? They are a really good way to keep active if you aren't able to get outside.
The activities that you were given last week are things you could do a number of times. If you have done some addition and subtraction calculations can you do some with different numbers? Could you write some for your family to complete?
Some challenges for you to complete are:
· The months of the year below are jumbled up. Can you write them in the correct order?
August
March
May
December
June
January
April
September
October
July
November
· Find 5 of your teddies or toys from around the house. Can you put them in the right order from smallest to largest?
· Can you choose six 2 digit numbers and draw the tens and units for them?
For example: 36

· How many words can you write with the 'ay' sound?
· Choose 3 words that you have written with the 'ay' sound and use them in a sentence. Try to use and or because to extend your sentence. · Play buried treasure on www.phonicsplay.co.uk using the ay sound.
· Write a letter to a friend. Tell them what you have been doing over the last week. Tell them one thing you have enjoyed and ask them a question. Don't forget to use full stops, capital letters and conjunctions (and, because).
· Have a look in your garden or out of the window. How many signs of Spring can you see? Write a list.
· Can you draw a sketch of a daffodil?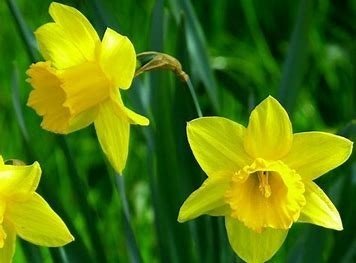 · Don't forget to read! www.oxfordowl.co.uk is a fantastic website with lots of e-books split into age groups and phases. You will need to create an account, but it is free to do so. · Don't forget to access www.educationcity.com to play the games we have set for you. If you do not have your username and password, please call school.
We are thinking of you all and will hopefully see you soon!
Mrs Royston, Miss Dunn and Miss Q