Nursery
The nursery offers part time education for 26 children in separate morning and afternoon sessions. The majority of children will attend nursery for 3 terms before starting school. The nursery is housed in purpose built accommodation and the learning environment is maintained to a very high standard. The nursery staff team include:
Mrs Brant - Nursery teacher

Mrs Hartley - Nursery Nurse

Mrs Tai & Mrs Aziz - Part-time bilingual support worker
Attendance
It is important that all children attend every day, unless they are unwell. Poor attendance has a detrimental effect on children's education, particularly at this early stage in their development. Parents should ring school if their child will not be attending that day.
Weekly Organisation
Milk and Snacks
Nursery children are entitled to a free carton of milk every day. They also prepare a snack in our café and take part in regular cooking and baking activities.
Library
Friday is also library day when children are able to choose a book to take home to share with an adult. Library books are changed as he children come in on Friday morning offering you the opportunity to stay and choose a book with your child. Children who enjoy listening to stories and have interest in books will also be eager to learn to read. A waterproof bag can be purchased for £3.00 from the school office and can be used throughout their school life at Heckmondwike Primary School.
The Curriculum
Your child will be learning skills, acquiring new knowledge and demonstrating their understanding through 7 areas of learning and development.
Children should mostly develop the 3 prime areas first:
communication and language

physical development

personal, social and emotional development
This should help them develop in the 4 specific areas:
literacy

mathematics

understanding of the world

expressive arts and design
Throughout the year children will continue to add work to their individual Foundation Stage profile and their progress will be summarised in a report at the end of Reception when they will also bring home their profile. Parents are welcome to look at their child's profile or discuss their progress with staff at any convenient time.
For more information on the new EYFS curriculum visit www.foundationyears.org.uk
In foundation stage we share the ethos of learning through quality play experiences in a stimulating environment.
We are currently devising new strategies to enable us to plan using a child initiated approach. Some of our inspiration and ideas have come from Alistair Bryce- Clegg at ABCdoes.com .We are keen to discover what your children enjoy doing at school and at home. Therefore would welcome any extra information about their current interests.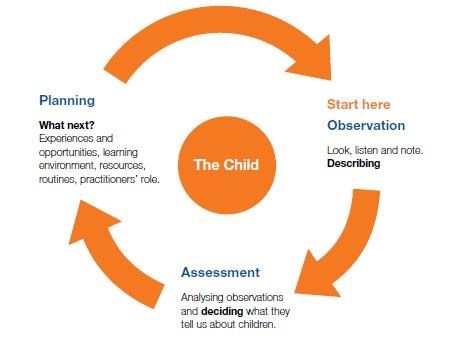 Every week all of the adults that work across nursery meet for a feeding forward meeting. Using observations, assessments, photos and work from the previous week we identify the skills that the children need to work on to enable us to move the children's learning forward.
We then enhance our environment to provide opportunities for children to develop these skills during their play. Using the objectives from Development Matters and the Early Learning Goals, we identify the focused skill and create next steps for each child. Then we generate adult led activities to encourage children to take part. This enables the adults to observe and work upon individual skills. We start by placing the children at the level that they are currently working; this might be changed during the course of the observations as children develop their understanding. During continuous provision some of the adults will play alongside the children developing and introducing new skills.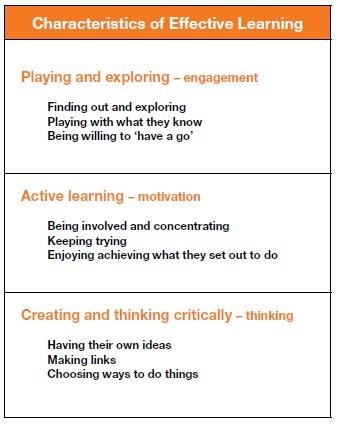 You can help the teacher by:
Developing a good routine at home where your child has a regular bedtime and therefore gets plenty of sleep and can come to school ready to learn.

Encouraging children to be independent when dressing, eating and managing personal hygiene.

Encouraging and praising good behaviour.

Ensuring children have a healthy breakfast.

Helping you child with homework activities.

Talking with your child everyday and developing their social skills and vocabulary.

Labelling your child's school uniform and belongings clearly with their name.

Ensuring your child has sensible school shoes and a waterproof coat.