Class 6A
Welcome to Mrs Ashraf's Class!
A very warm welcome back to everyone! We have just started the final part of our journey -our last year at Primary School. Year 6! The year 6 staff team consists of: Mrs Ashraf, Mrs Jassal, Miss Perry, Mrs Patel, Mrs Parker, Mrs Mirza, Ms Wahid and Mrs Tahir.
The first week of term has already been an extremely busy one. Year 6 organised an 'Active Week' for the rest of the school, resulting in the children delivering highly expert skills through a variety of sporting activities. The children received a fantastic response and some excellent feedback from teachers and children. It was great to see that they took their roles as teachers very seriously! The purpose of the week was to encourage children to be in charge of their own learning and also to give them the responsibility and confidence to help them through the challenges of Year 6. We hope that this week has helped in preparing children for year 6, for life in high school, as well as developing skills such as planning, time-management, team-work reflecting on their learning and working under challenging circumstances. Year 6 worked extra hard during this week to make sure all the children at Heckmondwike Primary School enjoyed their activities and even raised money to put towards their end of year leaver's party!
Life in Year 6
The year 6 team would like to work closely with parents to support children during this year.
We have a fantastic and exciting year ahead of us but at the same time children are feeling anxious about the hard work ahead of them especially the SATS.
Straight after October half, please can you make sure that your child arrives in school at 8:40am so that they are in the classroom promptly, at 8:45am, in order to begin revision work. This is very important, as from Monday 30th October onwards we will be working on SATS booklets from 8:45-9:00am. This is just one of the ways that we will provide extra support for your child, so please do encourage them to go straight to their classroom ready to work hard.
If you would like to know more about how you can support your child in Year 6 then please call in to see us or catch us after school in the playground.
Lessons this term …..…..
In English this term we are really looking forward to interviewing our teachers and writing a biography. We will then be learning the technique of flashback writing to create suspense and deepen character understanding in our writing. In Spring 2 we will move on to argument and newspaper report writing.
In Maths we will be focussing our work on place value and number. We will continue to work on our reasoning skills and refine our written methods. Alongside this, we will be making ourselves familiar with SATs style questions.
Reading is very important this year, especially as we only have one term left before our SATs! We are developing our understanding and working on improving our inference skills. Last term Year 6 were not reading enough books or completing/passing quizzes. We need to read at least 1 book per week and complete the quizzes as well as pass them. Using a dictionary to check any unknown words will help us to fully understand our books. It is vital that you ensure your child is reading every day. Please try to listen to them read and ask them questions that demonstrate their understanding.
In Art/DT we will research famous architects and look at different architecture. We will then create our own rooms fit for royalty!
In Geography/History we will learn about famous people and look at the changing role of monarchs.
The unit this term in Computing reinforces the concept of algorithms being a set of instructions that can be followed to complete a task.
In Science this term, we will learn about the main parts of the human circulatory system and describe the main functions of the heart, vessels and blood. We will learn how nutrients and water are transported around the body. During Spring 2 we will be able to recognise the impact that diet, exercise, drugs and lifestyle have on our bodies.
Homework
Please encourage your child to put 100% effort into their homework and where possible please try to check their homework before they hand it in. Quite frequently in year 6, there will be extra homework challenges and tasks set to consolidate learning and help with SAT's preparation.
REMINDERS
Attendance is always extremely important, but even more so in year 6. It is highly discouraged to take any time off school due to holidays. There is a target of at least 95% attendance rate in school and those falling below this will be invited in for a discussion.
Also, please ensure that your child has the correct school uniform and PE kit.
These are a few things to remember!
PE is on a Friday so please make sure your child brings the correct kit - white t-shirt, blue or black shorts/tracksuit trousers and pumps/trainers.
Water bottles will go home each night to be washed and re-filled – this really helps with concentration and stops your child becoming dehydrated.
Homework, consisting of 1 piece of English and Maths, will be given each Friday to be returned the following Monday. From Autumn 2 additional homework will be given on a Monday to be returned on the Friday of that week. Yellow slips will be issued and text messages will be sent home if it is not done or not completed to a suitable standard. Extra, topic homework may be given when necessary.
It is very important to read regularly. Children should be trying to read every day at home and then taking a quiz when they have finished their book. This is even more important in year 6 as it will help with preparation for the upcoming SAT's. When we receive 100% on 3 consecutive occasions, we can then go onto a higher level. All children should aim to do 2 quizzes each week! Books can be changed before school, at break time, during guided reading, lunch time and after school. Furthermore this year we have introduced reading journals to support children in their reading, each time you child reads a books they need to write a short summary of what the book is about in their journals. To reward children for their effort in reading and passing quizzes, when you child completes one row of their reading challenge chart, they will be rewarded with a prize.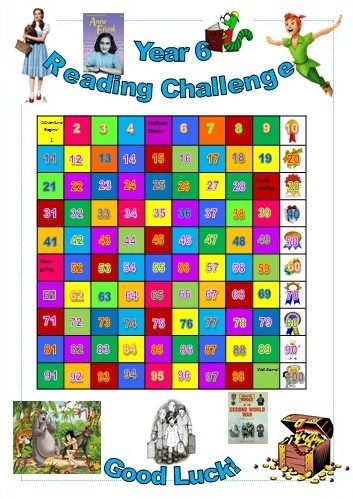 Spellings will be given out on a Friday to learn for our spelling test the following Friday. Your child needs to learn these spellings however, it is also important that they write sentences to g with each word as this will help them to understand the meaning of these words.