Our class teacher is Miss Lee. Mrs Hough, Mrs Mirza and Mrs Bradbury also work with me. Our aim this year is to learn, listen and have lots of fun!
Our Topic this Term
This term our topic is Seven Wonders of the World, where I will be looking at where the seven wonders are and mapping their location. I will also be finding out more information about the 7 wonders. I will also locate the continents and oceans on a map.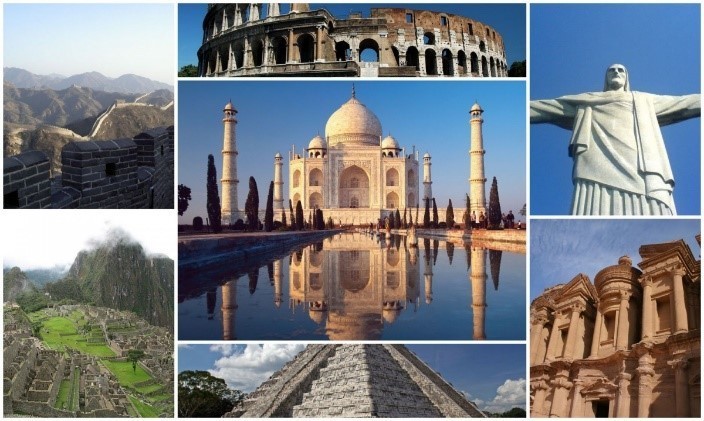 Art
In Art, I will be learning how to imitate Lowry's style and using pastels to create a piece of perspective art.
Science
In science, our topic is Materials where we will be looking at the properties of materials. We will be finding out how to separate solids from liquids. Furthermore we will look at how to dissolve solids in mixtures. In this unit of work we will be completing a range of experiments to find out about materials.
Maths
In Maths, we are working hard to improve our knowledge and understanding of place value and writing numbers in words and numerals. Later in the term we will be looking at addition and subtraction using the formal methods of calculation and will be looking at statistics. We are focusing on problem solving, reasoning and explaining how we work out our answers. Every Friday we will be looking at completing basic skills tests, in addition to looking at reasoning and arithmetic.
English
We have started the year with celebrating a very well- known author birthday – Roald Dahl. During this celebration we have looked at the BFG. We have created our own dream jars and wrote an instructional text. In the first week of term we were Poets and explored a variety of poems. We found a structure we liked and used this to help us write our own poem.
This half term, we will also be looking at Adventure Stories and improving our writing skills. In our writing we will be focusing on creating suspense and excitement – leaving the audience/reader wanting to read on. To help us improve our knowledge of spelling, grammar and punctuation we will be doing short tests, to identify areas we need to work on. We will be moving onto looking at instruction texts by creating our own set of instructions.
Things to look forward to!
In music, we will be learning to play the flute!
There are lots of clubs this term so I need to make sure I take part and join a club!
These are a few things to remember!
PE is on a Wednesday so please make sure you bring the correct kit - white t-shirt, blue or black shorts/tracksuit trousers and pumps/trainers.
Water bottles will go home each night to be washed and re-filled – this really helps with our concentration and stops us becoming dehydrated.
Homework, consisting of a piece of English and Maths, will be given each Thursday to be returned the following Monday. A text message will be sent home if homework is not completed or returned to school. Extra topic homework may be given when necessary.
Spellings will be given out on a Friday to learn for our spelling test the following Friday.
It's quiz time! Remember to read at home and change your book regularly. For every quiz we pass, we receive a sticker. For every 10 quizzes passed we receive a prize!